13 Resources For The Curious Silversmith
Do you work with metal and need a few resources? Are you going it alone and teaching yourself to craft with metal? This post is for you!
In 2017 I started out on my silversmithing endeavor. Pat and I had just moved to Denver, Colorado and we were fresh out of college. I figured since I finished college, I would have plenty of extra time to devote to a craft that I once used for study. When I began silversmithing, I decided to go it alone without the help of formal classes (I was a broke college grad!). 
I bought my first set of random tools from Rio Grande in April 2017 and didn't purchase my first sheet of silver until June 2017. I would go to the local metalsmith supply shop right outside of Denver and ask questions of the folks who worked there, slowly navigating what I needed to start crafting.
I remember how frightened I was when I first turned on my butane torch. I remember how frustrated I was trying to get solder to flow. I think it took me almost a month of self-pep-talk, and trial and error, to use the torch confidently enough to get solder to flow. Finally, in August '17 I got solder to flow and made my very first piece, which was a sterling silver ring with labradorite. I totally did a happy-dance after that.
Needless to say, being a self-taught silversmith has encouraged me to find plenty of resources over the years, and I'd love to share them with you. If you're currently in the process of teaching yourself to work with metal, or have worked with metal for years already, I hope that you can find some resources below that will peak your curiosity or teach you a thing or two. 
Note: There are so many great resources out there for learning metalworking and techniques – these are just a few that I've come across over the years and this list is by no means exhaustive! 
online blogs
01.    Nancy LT Hamilton – aka The (Not So) Lazy Jeweler has a wealth of knowledge available on her website, which is easily discoverable with a search bar feature. If you're like me, and enjoy learning by watching, Nancy LT Hamilton also has super helpful YouTube videos available on her channel. Not only does she share quality information, she's also entertaining! 
02.    Rio Grande – If you do metalwork, you are likely familiar with Rio Grande! This is where I purchase most all of my tools and sterling silver. Rio Grande also has a Resource Center, complete with videos, helpful charts, and a blog.
03.    Metalsmith Society – Metalsmith Society provides crowd-sourced advice and tips for anything metalworking. Corkie Bolton, who stewards the Society, also shares tool overviews, making the elusivity of tool buying more accessible! I primarily follow Metalsmith Society on Instagram, but there is also a webpage with an awesome searchable feature as well. If you follow along with Metalsmith Society, you can also become a Patreon to support the work that goes into keeping this community asset alive! (P.S. There is awesome merch available through Metalsmith Society)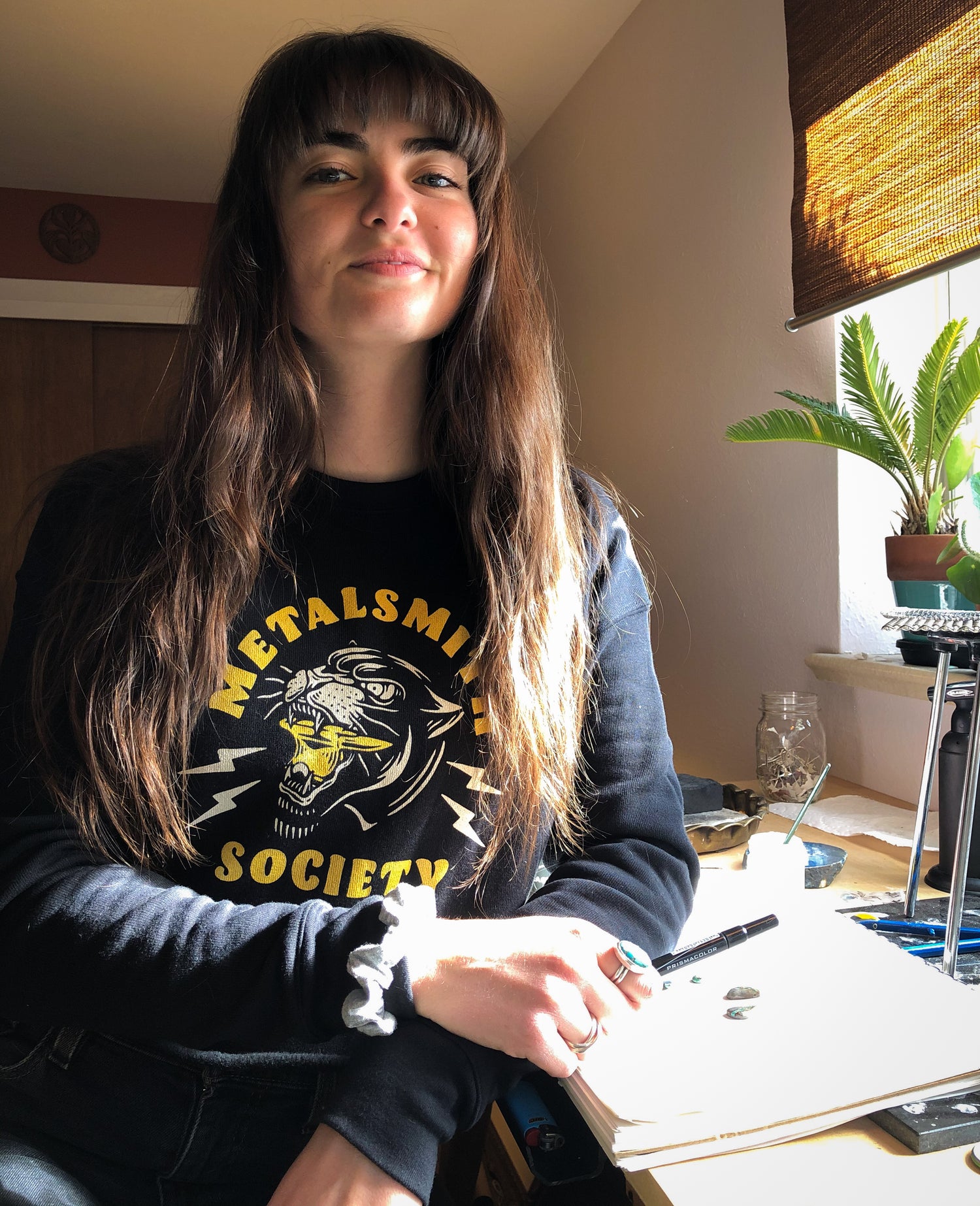 See! Sweet Metalsmith Society merch
books
04. The Complete Metalsmith by Tim McCreight

This was one of the first books I picked up at the local jewelry supply shop and it successfully highlights the basics. I like to think of this book as a quick-reference dictionary to look up materials and techniques.

05. The Workbench Guide to Jewelry Techniques by Anastasia Young

This is probably my favorite book on the shelf. This comprehensive book holds a wealth of information, everything from basic tenets of the craft, to depthy techniques that I hope to learn down the road. The descriptions and step-by-steps are thorough and I find this book gives me the inspiration to try something new when I feel stuck.

06. How to Create your Own Jewelry Line by Emilie Sharpio

When thinking about sharing your craft with the world this book is a go-to for putting on a business-mindset. Shapiro covers the nitty gritty that you need to consider while starting a jewelry business like production, pricing, marketing and selling.

07. Gemstone Settings: The Jewelry Maker's Guide to Settings and Techniques by Anastasia Young

This is a great resource if you're thinking about getting into fine jewelry. I haven't dabbled with a wide variety of different stone settings, but like having this book available to peak curiosity for trying something new!

08. Soldering Made Simple: Easy Techniques for the Kitchen-Table Jeweler by Joe Silvera

This is a wonderful book for beginners. The book walks you through numerous projects that can be easily understood and achieved. I used the Bezel-Set Stone Ring tutorial to craft my very first piece!

09. The Complete Photo Guide to Making Metal Jewelry by John Sartin

This is another great book for beginning silver/metalsmiths. If you're like me, you like to visualize what a process looks like. Sartin captures the process beautifully in step-by-step photos.

10. Metalsmithing Made Easy by Kate Ferrant Richbourg

Yet another prime book for the curious beginner. This book takes the reader through what tools are needed to get started, and provides step-by-step tutorials of beginner-accessible projects. I appreciate the amount of projects in this book that utilize copper, because copper is a great option for beginners to practice with. Save purchasing more expensive silver until you're ready!
podcasts
11. The Goal Digger Podcast with Jenna Kutcher –

Kutcher's podcast has 400+ episodes that pump you up and get you ready to realistically take on your business (if you're into that). She is relatable, and strategic, and her episodes feel like a conversation with the listener. I would recommend her to anyone working towards an entrepreneurial mindset. 

12. Wellness for Makers with Missy Graff Ballone –

Sometimes when creatives start flowing with our work, we forget about our posture (and the like)! This podcast encourages us to pause, stretch it out, and thrive physically and mentally while we craft. 

13. Girlboss Radio with Sofia Amoruso –

Many recognize Amoruso from her entrepreneurial ride with Nasty Gal, and now she is working to share entrepreneurial advice and reality with the world through Girlboss, and I'm all about it! 
Thanks for reading, curious silversmith!
Do you have any right-hand silversmithing resources that were not mentioned above? Comment below!