A Peek Inside My Home Jewelry Studio
Welcome to this week's episode of MTV Cribs, Earthbound Silver's home jewelry studio edition. I'm excited to show you where the silversmithing magic happens! Here in my home studio, I do everything from sketching, to sawing, hammering, soldering and polishing, and eventually packaging orders to ship to you. I'll show you around my studio and share some of my tool highlights, as well as some organizational features that I find helpful.Let's go!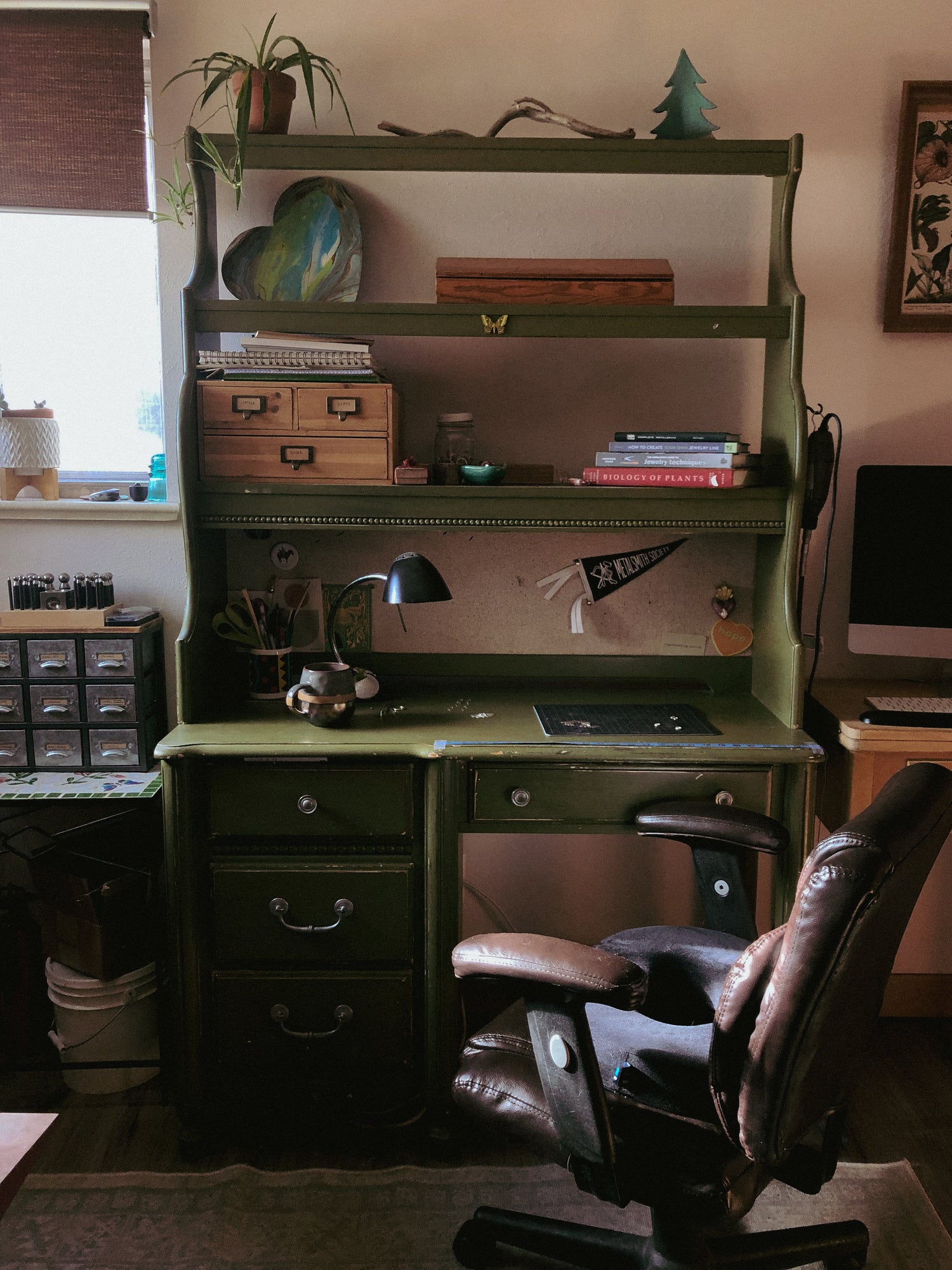 Ahhhh, my green desk. This is my favorite piece of furniture. I've had this desk since I was a kid and when I went off to college, my late dad painted it green for me. It holds a special place in my heart. 
Anyway, I would say that this green desk is the central hub to my studio. It's here that I sketch initial designs, package orders, and also use my dremel tool (for grinding, polishing, etc.).
Soldering is the term for the material and process that joins pieces of metal together. This requires the use of flame/heat. The soldering station is really just a drafting table set at the maximum height and leveled. I like to stand when I solder (as opposed to sitting), because for some reason I feel more in control of the flame. I have it positioned by the windows for a bit of ventilation, which I encourage with a small desk fan that sucks air out the window. I use the black marble tile to prepare my soldering chips in flux, before I put them on the metal. The metal tray with a charcoal block is where I do the actual soldering, using handheld butane torches. 
sawing/hammering/tool desk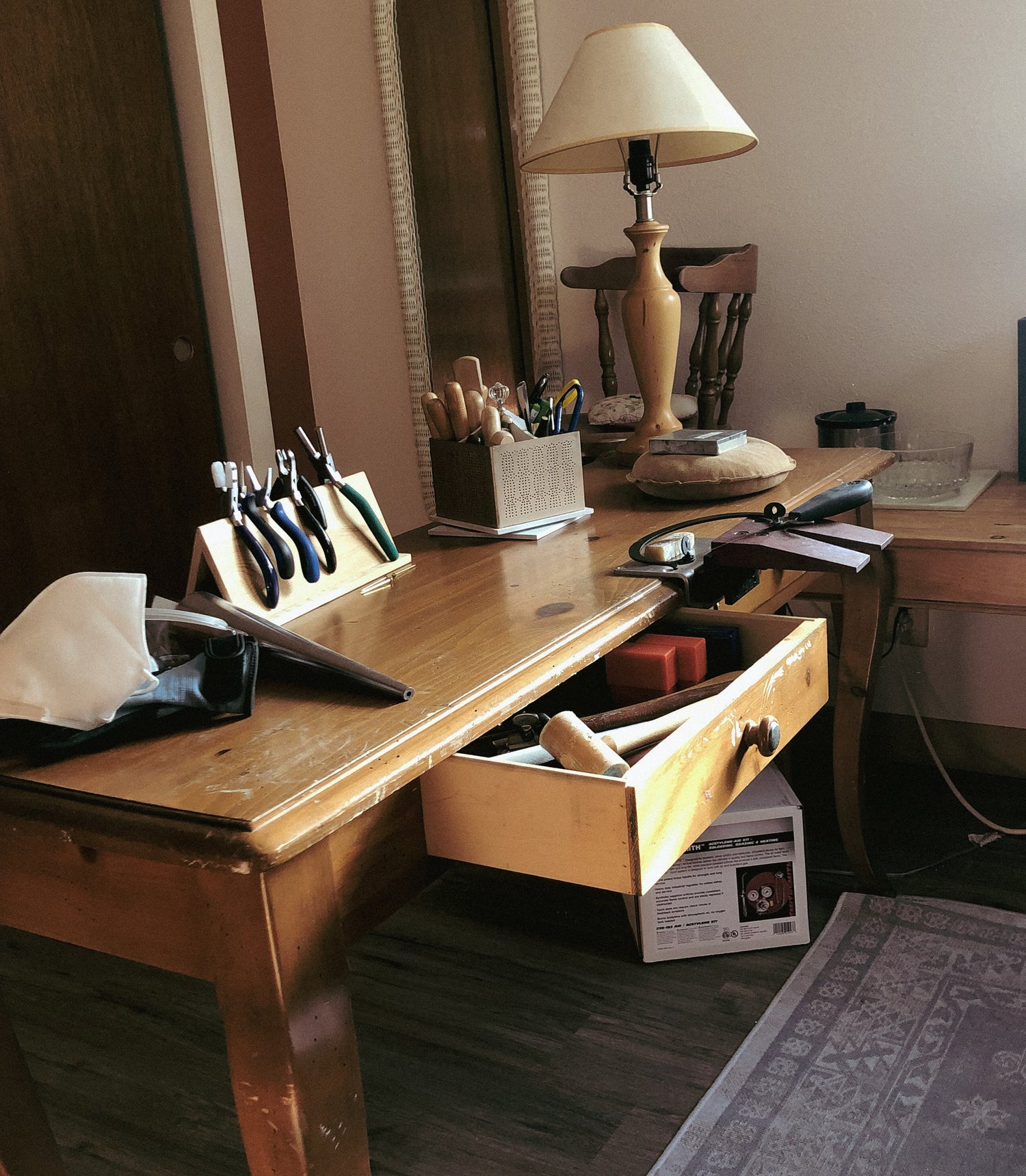 This really isn't even a desk, but more of an entry table you'd have in your living room or something. I don't have a traditional jewelers bench, so I've come to make these unique pieces of furniture work for me and my craft! It's here that I hammer and stamp metal, store most of my handheld tools (files, pliers, hammers), and have my bench pin set up. 
When I feel stumped, or need to look outside myself when sketching, I like to turn to books on the shelf or look in the boxes of collected natural materials. I have recently been using an old biology of plants textbook for some inspiration! The terracotta wall color livens me up, and the art/prints collected from admirable artists help encourage me towards what's possible.
The Dremel –I use this rotary tool with changeable bits to grind, shape and polish metal. I have had this Dremel since I started silversmithing in 2017 and it has been a tried and true piece of equipment. I have it rigged to the desk, hanging from a hook with a flex shaft attachment which makes the tool easier to hold and work with (as opposed to holding the fat Dremel tool itself).
3M Mask–  yup, safety first! It took me a while to realize this was a good thing to wear when soldering. I feel at peace knowing I'm not directly breathing in the yuck chemicals that are put off from soldering.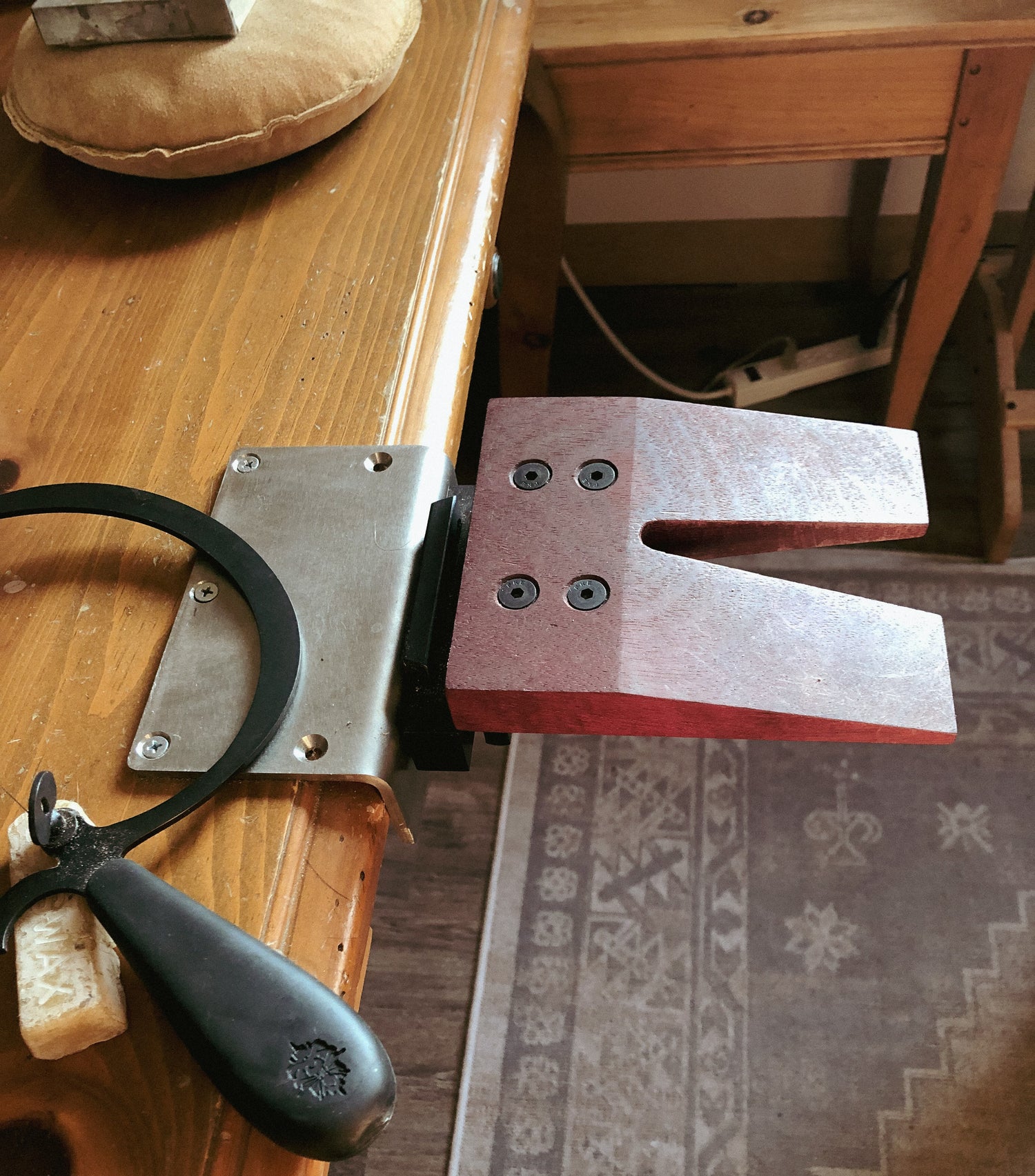 GRS Benchplate Mounting Adapter & Jayne Redman Bench Pin –  Since this table is oddly beveled along the edges, the GRS Benchplate Mounting Adapter is super helpful for attaching the Jayne Redman bench pin. There are a variety of awesome tools that can attach to this mounting adapter, and I look forward to collecting more attachment tools in the future.
Green Lion Saw Frame – Before I was using this frame, I was using a basic frame that I imagine most beginners start with. I rave about this sturdy steel saw frame, and it looks pretty badass as well.
organizational highlights
Labeled drawers –There's something about organized materials that gets me excited. Be it the thought of knowing where everything is, in its right place, or the labels themselves that excites me (big Virgo energy over here!). Needless to say, there are so many little pieces that silversmithing requires, and to have them separated and organized is crucial for me.
Storage of silver wires in a binder, using plastic sleeves –Wow, what a game changer this was for organization. I learned this hack from aMetalsmith Societytip and it is far superior to having a mess of silver in a drawer! Even if you're not organizing metal, this binder/plastic sleeve hack is a great organizational solution for so many things.
Multicolumn
I think the desire for more tools will never end. As my skills grow, so will my tool collection, inevitably. I've already made some great upgrades since I've started out, but have listed out a few more that I hope for one day. 

Torch – My husband gifted me the Silversmith acetylene torch, and I just have to get it set up! It should allow me to work on bigger projects.

Rotary tool – As I mentioned, the Dremel has been a fantastic rotary tool and definitely gets the job done whether it be grinding or polishing. That said, a Foredom Flex Shaft can be controlled with a foot pedal (the Dremel is not), and a foot pedal would be so helpful!

Hammer and File organizer – I'd love to use the open wall in my studio for hanging my files and hammers.

Jewelers Bench – My studio is made up of tables and desks that are quite random, and while I'm totally down with that and will always keep my green desk, a sturdy jewelers bench would have some definite benefits to how I get work done. 
Thanks for visiting my home jewelry studio!
I'd love to hear some of your favorite tools or organizational tips that you use in your workspace. Feel free to share in the comments below!